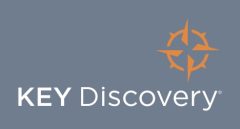 KEY Discovery
Business Services,Attorneys
Founded in 2008, KEY Discovery is an independent Boston-based litigation support provider. We've built a solid business on three core principles:
Uncompromising quality
World-class personal service
A steadfast commitment to doing the job right — whatever it takes
We do all work in-house, and our production facilities run three shifts, around the clock. To make sure everything is done right the first time, we build quality into every step of the process. And then—just to be on the safe side—we ensure 100% accuracy with a thorough final inspection.
Because our mission is to build customer relationships based on mutual respect and trust—not just transactions—we expect a lot from all of our people. Our customer service and production professionals have to master not only the technical aspects of the job; they also have to understand your working environment, and be responsive to the unique pressures of the legal industry.
KEY Discovery offers a full menu of litigation support services for local and out-of-town law firms. From preliminary assessment to post-trial briefs, we manage the document discovery process—both electronic and paper —to make the most efficient use of your staff resources and your clients' budgets. In addition, we offer expertise in court reporting, depositions, trial exhibits, courtroom technology, and additional corporate solutions. Request free consultation today